Did you know that a laptop is lost or stolen every 53 seconds? With this increasing number, finding the lost laptop can be a big thing for sure.
It doesn't always have to be a dreadful thing to lose a laptop! Hope is there! Like cell phones, since every laptop also has a serial number, there's a chance of finding it around!
But you have to know how to track a stolen laptop with serial number. 
You can use the default tracking function of your laptop or use third party service to track your lost or stolen laptop. Filing a case in the police station also can help as they have the technology to track things down. 
We'll talk about all the possible ways to find your computer, but let's not give you false hopes. We will show you a number of ways so that you can get the trace of your laptop.
Let's get started.
Can I Track A Laptop After It's Been Stolen?
When someone says, "Keep calm, I'm not ignoring you. I just lost my laptop." You can feel the pain immediately if you had the same occurrence in your life too. But the big question is, can a stolen laptop be tracked?
Yes, it can be. There are a number of ways to do so. Let's see which one works for you.
Using A Tracking Software
First method, you need to make sure you are using some serious tracking software, like Prey or anything similar to that. Even if it costs you some ignorable bucks, don't hesitate to do so, especially if the laptop has sensitive data in it.
This is especially true for people in the finance industry. Not only you're losing priceless data, but also a laptop for financial advisors can cost a good amount.
Once you use good software to track your laptop, be it a financial or a personal laptop, you will get the best results.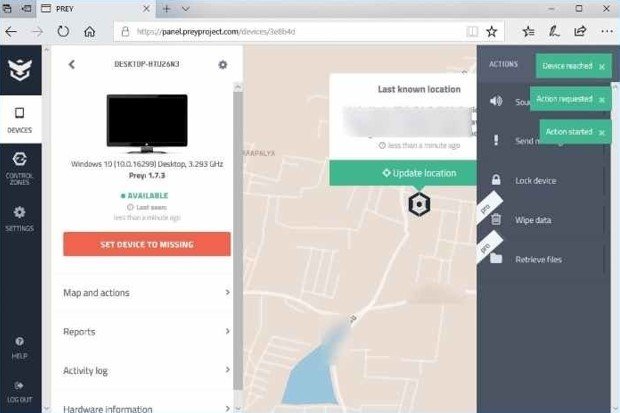 Once you register your laptop with the service provider, you will continue to get remote access to your laptop, no matter wherever it is.
Default Tracking Feature (Turning it on)
You can take the help of the built-in function called "find my device" available with many laptop brands and models. It is a built-in feature in Windows or Mac. But you need to make sure you turned this feature on before your laptop is stolen.
If you don't know how to turn on this feature, let's show you in detail.
First, open All Settings on your Windows laptop. It can be opened from the bottom right corner of your window or by writing "Settings" in the search bar. Go to the "Update & Security "option.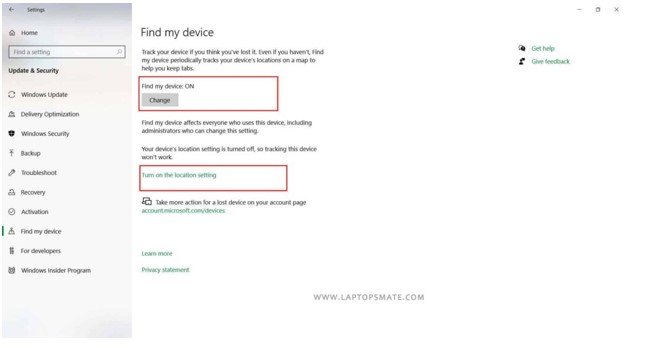 Click on "Find My Device" from the left sidebar menu.
Check whether this option is turned on or off. This usually remains turned off by default.
If not, you can turn it on from there.
Then, go to the Privacy option and then click Location. Turn the location services on to allow your device to access your location.
You can now track your device's location by logging into your Microsoft account.
3 Ways To Track A Stolen Laptop With Serial Number
We have already said that this misconception is everywhere that a stolen laptop can be tracked with the laptop serial number. But the serial number of a laptop is nothing but the identification of the laptop to the manufacturer.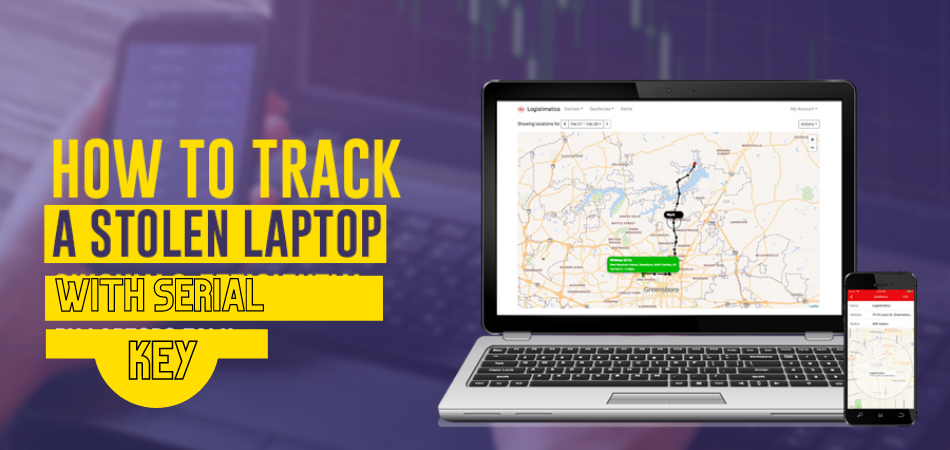 And the serial number has nothing to do with it until any physical contact happens. You can't find the exact location of the laptop with the serial number, but it will be necessary while reporting the incident to the manufacturer or making a police report.
We would rather show you some effective steps you can take to find a stolen laptop untraceable.
1. Using Tracking Software
Remember what we have said earlier? If you have tracking software installed on your laptop, you can get remote access to your laptop with the software. In the case of such a loss, you can immediately log into the tracking software on any other laptop or smartphone and track your device's precise location.
The accuracy of tracking depends on the quality of the software and the amount you were paying for it. In some cases, you might pinpoint the location. Well, that depends on whether the laptop connects to a network or not.
2. Using Find My Device (default feature)
This is also an easy process if you have the feature turned on as mentioned previously. But your lost laptop should be connected to the internet for you to avail of this service.
Simply log in to your Microsoft account on any device and go to the "My Devices" option.
You will see your lost device listed here if you have previously turned Find My Device on.
Click on the device to get more information about the device's location.
You can also erase the device if you have sensitive data in it while you work on getting it back.
3. Using MAC or IP Address
MAC Address is a unique form of identification number of any device when it gets connected to the internet. IP Address is also a similar number. You can use these IDs to track your device's location.
It will be easier if you have used web-based services on your lost laptop. Let's show you how you can do this.
Using Dropbox or Gmail is a very good way to track your device's IP. These services get synced automatically once your device has an active internet connection. In the case of Gmail, you will continue to get automatic notifications about new or unusual logins, devices, places, etc.
Simple open any browser and open your Gmail inbox.
Go all the way down and look in the bottom right corner.
Click on Details and a new window will pop up with all the details like access type, IP Address, Time, and Location. You can use this information to track your device.
Can I Trace My Stolen Laptop If It's Been Factory Reset?
In today's world, everyone is more or less aware of the technology. So, it's not unusual that the person who has stolen your laptop will try to reset factory settings on your laptop to be safe.
The question is, can the laptop be tracked after a factory reset? The answer to this question is a bit complex. You can't track all laptops after a factory reset. But some manufacturers offer that much protection in exchange for a service fee to be paid continuously before that event happens.
So, if you have a laptop from any of those manufacturers like ThinkPad or Apple, you can get this benefit. Even if you have such software that offers this kind of protection, you will be able to track the laptop even after it's been factory reset.
The Bottom Line
Putting all this information in one place was to help you understand the whole thing of tracking lost laptops. Now you should know how to track a stolen laptop with serial number and when it's not an option in the first place.
Be sure to turn the functions on if you haven't lost your laptop yet, and follow the methods once lost. Taking enough precautionary measures before it's too late is the smartest way to deal with it. Best of luck not losing your laptop ever and if you did already, may you find it soon!