A silicone keyboard cover is a piece of protective layer that you can install on your keyboard. You put it on top of a keyboard in order to protect it from dust, dirt and any kind of liquid entry.
But making it stick to the keyboard is necessary if you don't want it to wobble every time you move your laptop, rendering it useless.
So, how you how to make a silicone keyboard cover stick so that the cover does its job well?
You can use a piece of double sided tape on every corner of the cover and stick it to the laptop easily. Alternatively, there are magnet straps available in the market that do a great job keeping them together.
Let's show how it's done with step by step process.
What Is A Silicone Keyboard Cover & Why Do You Need One?
Silicone keyboard cover is a protector for laptop keyboards. Although if you have a laptop for outdoor use, it may have a spill resistance to a certain level, but definitely cannot withstand a pour. That's why you must get a silicon cover instead of hoping the keyboard to survive on its own.
It saves your device from all kinds of external and internal damage, especially caused by liquid.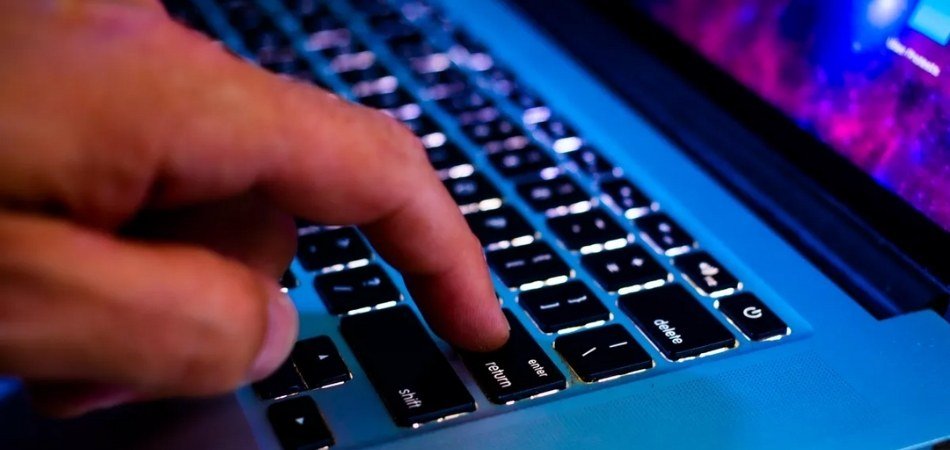 You may accidentally split food or drinks on your laptop while working. A Silicone keyboard cover can protect your keyboard from all those unfortunate situations. It can also prevent the entry of dust and keep it clean. Silicone is a waterproof material, so you can easily wash it.
Here are some common reasons why people should use silicone keyboard cover for laptops:
To save the keyboard from liquid spills
A silicone keyboard cover saves your computer from liquid spills. Silicon cover is a waterproof material. So, if you are drinking water or any liquid when working, and it accidentally spills, your keyboard will be safe from the damage. It is also easy to clean the silicone keyboard cover. You can wash it with water or clean it with a towel.
To protect the keyboard from dust and dirt
Keyboard has enough keyholes where dust and dirt can easily enter. You cannot clean those tiny spaces, if you see that it gets dirty. A silicone keyboard cover can keep your keyboard safe from that dirt.
Many people have dust allergies, and some are very particular about their hygiene. A silicone keyboard cover is a great solution for them. You can easily clean a silicone keyboard cover and get rid of that dust.
Keep your keyboard new by using a silicone keyboard cover on it. Most of the time, Alphabets on the key become invisible when we directly use it for a long time.
It also makes our laptop look old; a comfortable silicone keyboard cover can keep your laptop always new and fresh.
It is the best keyboard protective material which can save it from all external and internal damage. For keeping your keyboard new, you can buy a new one or clean the silicone keyboard cover.
How To Make Silicone Keyboard Cover Stick To Your Laptop?
Sticking the silicon cover can help you move the laptop or keyboard without having it falling off. Here are a few methods, explaining How to make a silicone keyboard cover stick and stay attached when you move.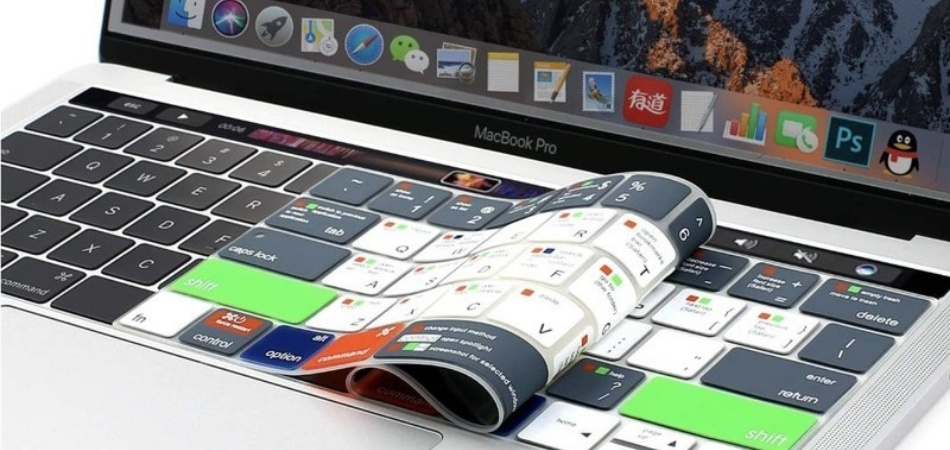 1. Stick double sided tape
Stick double sided tape on the keys where the keyboard cover bubbles up. Take a thin piece of tape and stick it to the key. Do not worry about the tape residue on your key, you can clean it with an alcohol scrub.
2. Use Adhesives
Apply adhesive or Silicone glue carefully so that the cover stays in place. Fix the Silicon cover with the keyboard properly and make sure every part is sticking well. You can use a card for sketching the cover with the laptop keyboard.
You can use a hairdryer for 5-6 minutes for drying the glue. Keep it aside and don't touch it for 24 hours. Let it set the Silicon cover with the laptop keyboard.
3. Use scotch tape
Scotch tape is another alternative method to stick the keyboard cover. If you don't want any residue and glue straps, scotch tape will be the best option. Though it may look a little messy but sticks well.
4. Use magnetic strips
You can get some flexible magnetic strips and stick them all around the keyboard. After that, use some loctite glue to stick some of those tapes permanently to the Silicone keyboard cover. It's very easy to remove and reinstall due to magnets.
How To Clean Your Silicone Keyboard Cover?
Keeping your silicon keyboard cover clean is essential as it encounters the dirt for your keyboard. Here I am giving you some easy steps to wash or clean your Silicone keyboard cover easily:
Step 1: Prepare thighs
Take a bowl or fill your kitchen sink with warm water. Add ¼ tsp. of mild detergent powder in it and mix with the water. Remove the Silicone keyboard cover from the laptop and clean the dust with a cloth.
Step 2: Washing the cover
Put the cover in lukewarm water, making sure that the water is not too hot; it can damage the silicone cover. I prefer keeping it there at least 10 min for better results. After that, you can rub it slowly and clean the Silicone keyboard cover with normal water.
Step 3: Air Dry the cover
Dry the cover with a clean towel to remove the water and keep it there. Check the cover properly. If it is dry and clean, stick it on the keyboard again.
Final Notes
Silicone is a very good material as a keyboard protector. You can manage it easily, it is affordable and easy to clean. If it doesn't stay put, now you know how to make a silicone keyboard cover stick to your laptop without falling off.
However, you should buy the right model, good quality material, and follow the product instructions. Don't buy a cheap keyboard protector, it won't give you the best results. Your laptop does needs the right protection and the cover is providing just that.